Candlelight vigils prevail at BENECO HQ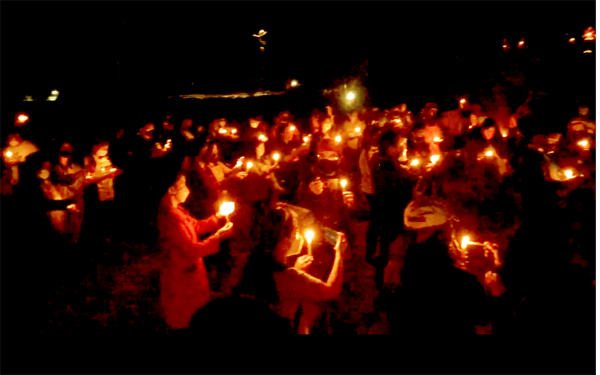 BAGUIO CITY — Employees, Member-Consumer-Owners (MCOs) and some local organizations in Baguio City and Benguet held nightly candlelight vigils at the Benguet Electric Cooperative's (BENECO) South Drive office since it resumed normal operations on Wednesday afternoon.
On the eve of Saturday, October 23, 2021, the Northern Davao Electric Cooperative (NORDECO), the Pampanga Electric Cooperative, Inc. (PELCO III), and BENECO's Abatan office also held vigils simultaneously in their respective areas in support of BENECO.
In the morning, a thanksgiving ceremony took place followed by a program which was attended by representatives of local government units in Baguio City and Benguet, aside from the employees, MCOs and others.
The ceremony highlighted BENECO's solidarity with other electric cooperatives (ECs) which are also going through difficulties from torment by the National Electrification Administration (NEA).
MCOs reiterated their unwavering support for BENECO during the program denouncing what they characterized as "forced, unconstitutional takeover" by NEA.
"What he [Engr. Melchor S. Licoben] is fighting for is not only for BENECO, not only for us, but actually there is a bigger picture," Benguet board member Juan M. Nazarro, Jr. said during the program.
"Whatever happens in BENECO if we fail, a domino effect will happen to the other ECs and the entire province of Benguet," Nazarro added.
He commended all those who are exhibiting support to BENECO at that time and assured them that what they are doing is purely legal as MCOs.
"As owners of BENECO, we have the [constitutional] right to protect our properties. BENECO is owned by the people of Benguet and Baguio so we have all the right to protect the same against outsiders," the board member said.
"They [NEA camp] are saying that this gesture of unity we are displaying is infiltrated. We are not infiltrated. They are saying this to scare us. They want to divide us. They want to win over us. Let us not subscribe to that anymore. Let us not anymore be affected by the way they mistreat and wreck us," multi-sectoral people's movement in Baguio Tongtongan ti Umili said in a mixture of the Ilocano and English languages.
BENECO's South Drive office was purportedly taken over forcefully by officials and representatives of the National Electrification Administration (NEA) with the company of members of the Philippine National Police – Cordillera Administrative Region (PNP-CAR) during wee hours on Monday, October 18.
The incident provoked the ire of concerned citizens and reactions spread extensively on social media like wildfire.
Early Wednesday morning, October 20, BENECO employees and MCOs marched from the central business district to BENECO's South Drive headquarters, making their way to the compound after successful negotiations with Baguio City Police Chief Glenn D. Lonogan.
The marchers were able to victoriously claim back the office without fighting and bloodshed and a rally right after was immediately staged by them.
When called to speak, engineer Melchor S. Licoben thanked the crowd at that time for the non-violent support BENECO had received, and for showing that Benguet and Baguio folks are peace-loving people.
"This is not the end but actually the beginning. We hope that we can sustain this so that our operation will not be paralyzed," Licoben said.
Normal operations resumed shortly after lunch, as Licoben said when he spoke to the crowd.
Meanwhile, in an interview Wednesday with Energy Department secretary Alfonso Cusi by journalist Karen Davila on ANC, the secretary said they had received reports of problems happening in the cooperative and recommended the NEA appointee attorney Marie Rafael to assume office to find out the truthfulness of the alleged reports.
"There are alleged reasons and abuses, and that has to be verified. The best is to let the new GM assume the work and find out ano ba talaga ang problema and how we can better the service to the people…tingnan po natin ang mga reports na yan, ang truthfulness, kung totoo ang mga alleged reports," the secretary said.
However, the appointment of Rafael is opposed by BENECO employees and MCOs, further claiming that the cooperative is not ailing.
BENECO to date continues to receive messages of support from LGUs in Baguio City and Benguet, as well as from other ECs, and organizations, condemning the incident that happened that dawn on Monday.
The Sangguniang Panlalawigan of Benguet as well as the Sangguniang Panlungsod of Baguio are both set to tackle the BENECO fracas on their next regular sessions. //Merriam del Rosario-FNS