President Duterte signs P5 trillion 2022 National Budget, new department for migrant workers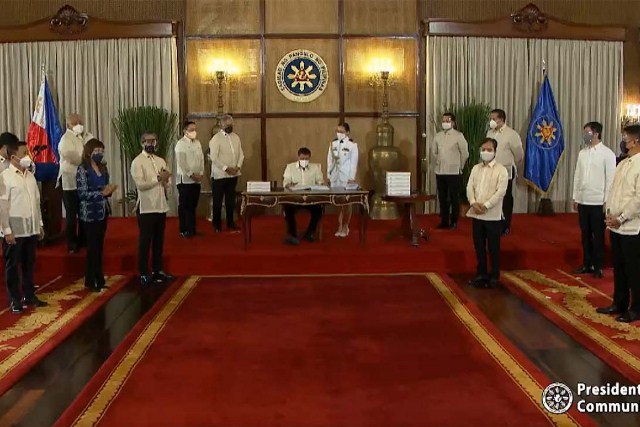 By PND
MANILA — President Rodrigo Roa Duterte signed into law Thursday the P5-trillion 2022 National Budget and the proposal establishing the Department of Migrant Worker, saying the newly signed laws will provide a more comfortable and productive life for Filipinos as well as recognize the sacrifices of overseas Filipino workers (OFWs).
Speaking during the signing ceremony in Malacanang, President Duterte said the 2022 budget reaffirms the government's strong commitment to improve the living condition in the country.
"This will also cement this administration's legacy of real change for future generations, guided by the three main pillars of Building Resilience amidst the Pandemic, Sustaining the Momentum towards Recovery, and Continuing the Legacy of Infrastructure Development," the President said.
With the creation of the Department of Migrant Workers, the President said Thursday's signing is special because it coincided with the celebration of Rizal Day, when the country honors, not only the exceptional love of the country of Dr. Jose Rizal, but also the patriotism, excellence and courage of the nation's modern-day heroes, including OFWs.
"As we mark the signing of the 2022 National Budget and other specific laws that will benefit all Filipinos — let us all emulate Rizal's heroism and courage by serving our country with dedication, integrity and accountability and by doing what is right and just for our people," he stressed.
There is no better way to serve the Filipino people but by giving them the honest, efficient and responsive government that they deserve, the President pointed out.
The chief executive expressed appreciation for Congress's timely ratification of the national budget, as he recognized the efforts of government agencies, civil society partners, and other civil servants who took part in crafting the important legislation.
He noted that the passage of the General Appropriations Act of 2022 reflects the healthy collaboration among all branches of government, which is crucial to the attainment of the administration's national development goals, especially as the country confronts multiple challenges.
Also during his speech, the President expressed hope that the country could weather the effects of the new, fast-spreading Omicron variant of COVID-19 that he fears may affect government efforts to rebuild and recover.
"Natatakot lang ako 'yung response na naman natin and how it would intrude into the budget na although we expect nandito pa 'yung pandemic tumatakbo, pero kung ang hawaan talagang mabilis, then we will have the same problem again," he said.
Amid the threat of the Omicron variant, the President said he hopes Congress would act accordingly and pass laws that will enable the country to cope with the new health concern. (PND)