RD PROCOR LEADS GROUNDBREAKING CEREMONY AND THANKSGIVING IN TANUDAN, KALINGA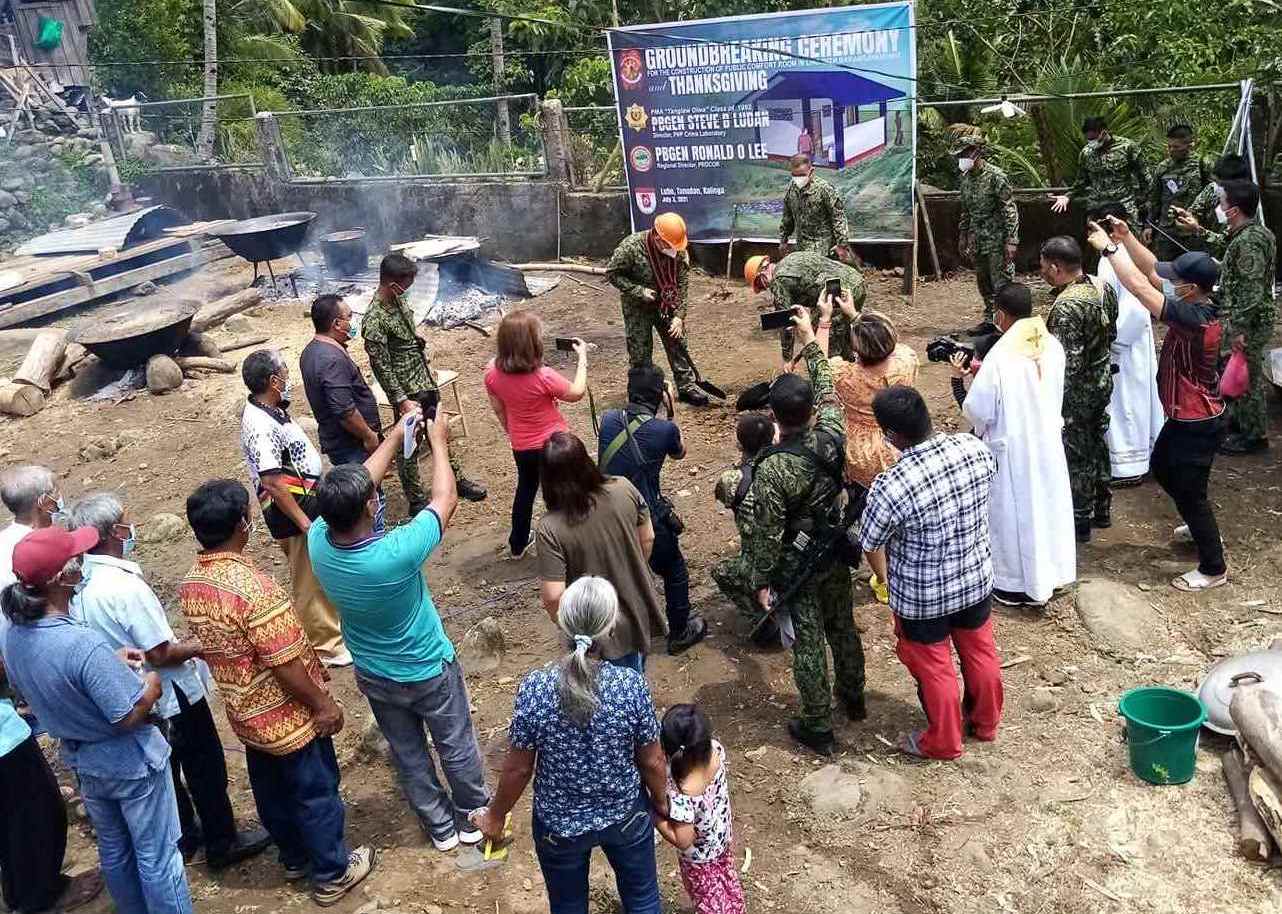 CAMP MAJOR BADO DANGWA, La Trinidad, Benguet – (July 4, 2021) – In line with the continuous #BARANGAYanihan activities of the PNP, PROCOR Regional Director, PBGEN RONALD OLIVER LEE and PNP Crime Laboratory Director, PBGEN STEVE B LUDAN, spearheaded the launching of the construction of a communal comfort room in a Groundbreaking Ceremony and Thanksgiving held at Brgy Babbanoy, in Tanudan, Kalinga on July 3, 2021.
Together with PCOL DAVY VICENTE M LIMMONG, Kalinga PPO Provincial Director; Hon. Jaedicke Rhoss P. Dagadag, Tanudan Municipal Mayor; and the members of the PNP PROCOR Ladies Club; PBGEN LEE, and PBGEN LUDAN led the groundbreaking of the construction site followed by the blessing officiated by Rev Fr PLTCOL JONATHAN CHY, PROCOR Regional Chaplain.
The construction is a project initiated by "Tanglaw Diwa" Class of 1992, as part of the various #BARANGAYanihan programs. And when completed, it will be able to benefit the community of the three (3) barangays in Tanudan, namely Barangays Babbanoy, Lower Lubo, and Upper Lubo.
Further, the PNP PROCOR Ladies Club, led by Mrs. Maria Clarissa Tandoc Lee, Club Adviser, along with Dr. Lizette R. Ludan, Mrs. Elsie B. Limmong, and Mrs. Ruth Aileen U. Bulwayan, also conducted a gift-giving activity to the pupils and teachers of Lubo Elementary School.
Aiming to extend their help to the community, especially to the children, they were able to give assorted school supplies to the pupils, and medical kits, bond papers, and computer inks for the teachers.
Moreover, as part of the program, PBGEN LEE also administered the Oath Taking Ceremony of 100 new members of the KKDAT Tanudan Chapter.
In his message, he reiterated to them their role as members of the KKDAT organization, to lead in the campaign on anti-illegal drugs, as well as anti-terrorism, so that they may help strengthen the End Local Communist Armed Conflict (ELCAC) programs of the government to attain a safer and more peaceful community. (PROCOR-PIO)