Prohibited Insecticides being sold openly in Pasig Mega Market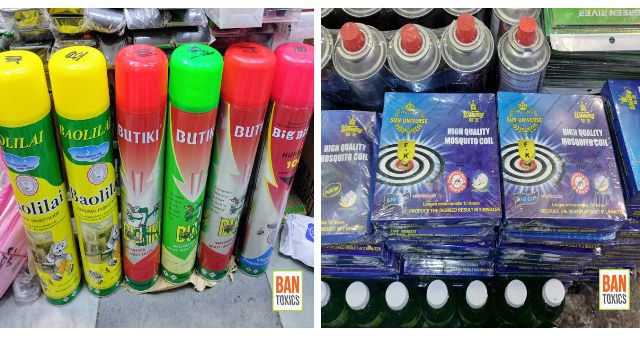 Toxic watchdog group BAN Toxics raised the alarm over the continuous selling of banned/prohibited Insecticides in Pasig Mega Market in the City of Pasig despite numerous public health advisories issued by the Food and Drug Administration since 2013 – a potential hazard may come from harmful, toxic and banned active ingredients that pose an imminent danger to human and animal health.
 In the recent market monitoring conducted by BT Patrollers in Pasig Mega Market, the group managed to photo document and purchase the selling of prohibited Insecticides: Baolilai Aerosol Insecticide, Butiki Water-Based Multi-Insect Killer, Big Bie Pai Aerosol Insecticide, and Wawang High-Quality Mosquito Coil. The prices of the insecticide aerosol ranges from P100 – P120 pesos while the mosquito coil is being sold for P20 pesos per box.
 "The continuous selling of banned and prohibited toxic household urban pesticides (insecticides) in the market is evident that some stores do not comply with the existing regulations. We call the attention of store owners to pull out on shelves the banned and prohibited insecticides," said Thony Dizon, Toxics Campaigner of BAN Toxics.
According to the FDA Advisory, "Since the abovementioned unregistered household/urban pesticide products have not gone through the registration process of the FDA, the agency cannot assure their efficacy, quality, and safety. The use of such violative products may pose health risks to consumers."
 "The use of substandard and possibly adulterated household/urban pesticide products may result in adverse reactions including, but not limited to, skin irritation, itchiness, anaphylactic shock, respiratory disorders, endocrine complications, brain damage, and organ failure."
The group urged Honorable Mayor Vico Sotto to take the necessary on-site inspection and confiscation to once and for all remove the prohibited products in Pasig Mega Market and prevent the public from risk of chemical exposure and poisoning.
"We will continue to conduct on-site monitoring of restricted consumer products in public markets and report to concerned authorities for law enforcement action. The health and welfare of the public should be the main concern, especially by our local officials," BAN Toxics added. # (PR)
References:
https://www.fda.gov.ph/wp-content/uploads/2022/05/FDA-Advisory-No.-2013-031.pdf