#KayaNgBata: Adolescents showcase projects on HIV and AIDS Awareness in Young Heroes Initiative – High Five Grand Finals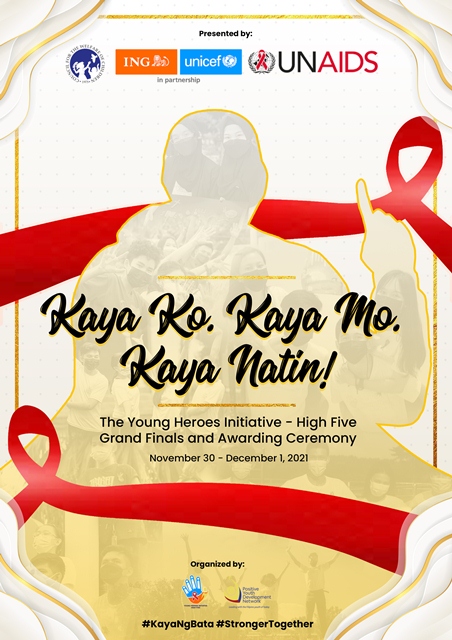 After a year with the Top 6 National Finalists, Young Heroes Initiative-High Five (YHI-HF) will showcase the implemented projects of the six adolescent-led teams for HIV and AIDS awareness, prevention, and control in the upcoming Grand Finals, Live Shows, and Awarding Ceremony, November 30 and December 31.
YHI-HF started as a social innovation hackathon that utilizes the talents and creativity of children aged 10-17 in providing solutions for issues surrounding HIV and AIDS in the country. From 32 initial creative outputs from teams across the country, six teams were granted seed money of Php 100,000 each to implement their envisioned projects, and to date, have engaged 2,692 people directly and reached more than two million young people in the Philippines.
To detail their progress, and how they have made difference in their respective communities, the six teams will present their projects to a panel of judges via Zoom on November 30, which fittingly caps off the National Children's Month Celebration 2021.
Moreover, in time for World AIDS Day, the Live Shows, where the kids will be directly interacting with a virtual audience to introduce their projects, will be streamed live on December 1, 1:00 PM -4:00 PM via Positive Youth Development Network's (PYDN) Official Facebook page: https://www.facebook.com/PYDNOfficial. The Awarding will also be streamed on this page on the same date, from 6:00 PM – 8:00 PM.
This program is presented by the Council for the Welfare of Children (CWC), UNICEF in partnership with ING, and UNAIDS, and is organized by PYDN.
"YHI-HF is not just about children addressing HIV and AIDS. At the heart of this program is the promotion of effective adolescent participation which is one of the basic rights of children in the country. YHI-HF shows that kaya ng bata, and with adults supporting them and promoting their engagement in relevant national issues, they can do more," said Alfred Dicto, Executive Director of PYDN.
Prior to the final project presentation, final community visits were conducted to understand deeper the scope of each project and the teams' impact. Details about the community visits can be found via the PYDN Official Facebook page.###
ABOUT PYDN
PYDN is the Philippines' pioneering youth development and accrediting network, dedicated to building courageous, creative and compassionate young Filipinos and youth organizations responsive to the evolving needs and opportunities of the country.