28M WORTH OF MJ PLANTS DESTROYED IN KALINGA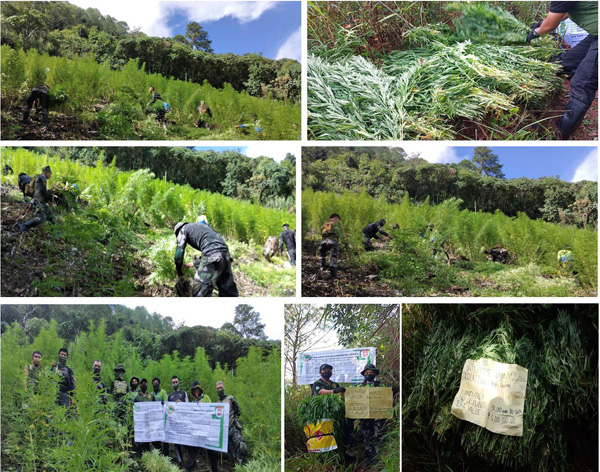 Camp Major Bado Dangwa, La Trinidad, Benguet- (July 10, 2021) – As part of the continuous Barangay Drug Clearing Program, another 28M worth of Fully Grown Marijuana Plants (FGMJP) and stalks were destroyed in a marijuana eradication operation conducted yesterday, July 9, 2021, in Brgy. Loccong, Tinglayan, Kalinga.
According to the reports submitted to PBGEN RONALD OLIVER LEE, the operation was launched by the joint operatives of PDEU, Tinglayan MPS & the 2nd KPMFC of Kalinga PPO, and PDEA Kalinga.
Operatives were able to discover a total of 110,000 pieces of FGMJP with Standard Drug Price (SDP) of Php 22,000,000.00 and an estimated 50,000 grams of newly harvested MJ stalks with SDP of Php 6,000,000.00 planted in an estimated land area of 5,500 sqm.
Moreover, during the said operation, the operatives were fired upon by still unidentified individual/s located from more or less 400 meters of air distance. Fortunately, no one was hurt during the incident and the operating personnel safely withdrew to Tinglayan MPS.
All marijuana plants and stalks were uprooted and burned on-site after documentation, while the intensive investigation is being conducted to identify the cultivators and the individuals who fired upon the operatives. (PROCOR-PIO)