Toxic Watchdog Group Pushes for "SAFE TOYS FOR KIDS" Campaign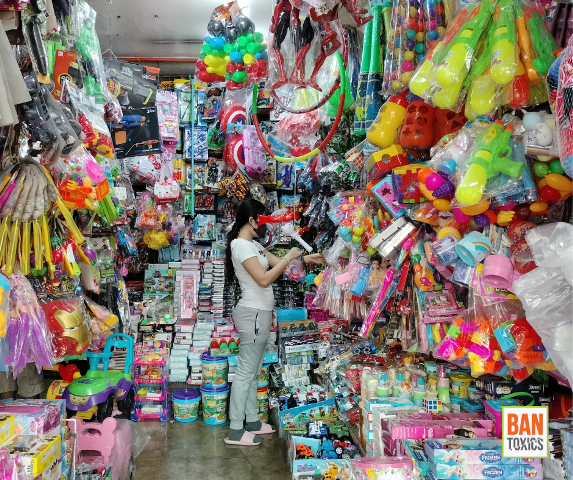 As the "ber" months kick-off, shops and stores are inundating their shelves with a wide array of toys. Toxic watchdog group BAN Toxics has taken the initiative to closely monitor these toys which aims to shed light on the presence of toxic chemicals in these playthings and to champion the health and safety of our children.
Thony Dizon, Toxics Campaigner at BAN Toxics, stressed the importance of this endeavor, stating, "Every child deserves access to safe and good quality toys, free from potential hazards like choking, laceration, strangulation, eye injury, and chemical exposure."
Dizon went on to offer advice to parents, urging them to exercise caution when selecting toys, as children are particularly vulnerable to the adverse consequences of inadequately labeled and unregistered toys circulating in the market.
The group highlighted two crucial regulations, RA 9711 and RA 10620, to underscore the importance of their advocacy. RA 9711 prohibits the manufacture, importation, exportation, sale, distribution, transfer, non-consumer use, promotion, advertising, or sponsorship of any health product without the proper authorization from the FDA.
Meanwhile, RA 10620, known as the Toy and Game Safety Labeling Law, mandates that all toys and games, whether domestically produced or imported, donated, distributed, or sold in the Philippines, must adhere to the safety labeling and manufacturer's markings stipulated in the Philippine National Standards (PNS) for toy safety.
To assist parents and consumers in making informed choices regarding safe toys for their children, BAN Toxics has compiled guidance from seattlechildrens.org on selecting appropriate toys and recognizing potential hazards:
Choosing the Right Toys:
1. Select toys that are suitable for your child's age and abilities.
2. Opt for toys crafted from natural materials like cotton, wool, and uncoated wood.
3. Refrain from purchasing old wooden toys with chipped paint, as the paint may contain lead.
4. Verify that fabric-based toys can be washed.
5. Choose toys labeled as phthalate-free, PVC-free, and BPA-free, avoiding plastic toys with recycling codes #3, #6, and #7.
6. When purchasing paints, crayons, markers, and art supplies, opt for those labeled as "non-toxic."
7. If the item requires safety gear, such as a bike helmet, make sure to purchase it alongside the toy.
Watching for Toy Dangers:
1. Be wary of sharp edges and points, especially in toys intended for older children. Avoid toys made from fragile plastic that can easily break. Also, refrain from giving toys with metal parts to toddlers and infants.
2. Small toys and those with small components can pose a choking hazard to children aged 3 or younger. Ensure that toys and parts cannot fit into an empty toilet paper roll or a choke tube. Soft baby toys should be sufficiently large to prevent swallowing, even when compressed. Inspect stuffed animals for detachable eyes, noses, and parts. Keep small toys and those with small parts out of reach when young children are present.
3. Pay attention to toys that produce loud or shrill noises, as they may harm your child's hearing. Read warning labels for instructions on safe use. Test toys in the store to assess their volume.
4. Toys with cords or strings longer than 7 inches can be dangerous for babies and very young children, as they can become entangled around a child's neck. Never hang toys with strings, cords, or ribbons in cribs or playpens. Remove crib gyms when your child can pull up on their hands and knees.
5. Exercise caution with toys that can fly or shoot objects, as they can cause severe eye injuries. Avoid toys that can discharge objects not intended for use in the toy, such as pencils or nails. Arrows used by children should have soft tips made of cork or rubber. If your child plays with toys that shoot objects, ensure they wear safety glasses.
6. When dealing with electric toys, purchase only those labeled as "UL Approved" (Underwriters Laboratories). Electric toys are suitable for children aged 8 and older when used under adult supervision. Avoid attempting to repair or create electric toys yourself. Battery-operated toys should have screw-closed battery covers to secure the batteries within the toy.
7. Exercise caution with toys containing magnets. If magnets detach and a child swallows two or more of them, they can attract to each other inside the child's body, potentially causing harm or even death. Young children should not play with toys featuring magnets. If older children engage with such toys, caution them against putting magnets in their mouths.
BAN Toxics concludes with a vital reminder: "The most effective way to safeguard your children is to closely supervise their playtime."
The group reiterates its call for toy manufacturers to comply with the existing regulations in the country, emphasizing that the continued sale of unnotified and unregistered toys in the market poses substantial hazards and risks to the health and safety of children. # (PR)
Resources:
https://www.seattlechildrens.org/health-safety/keeping-kids-healthy/prevention/toy-safety/
https://www.officialgazette.gov.ph/2009/08/18/republic-act-no-9711/
https://www.officialgazette.gov.ph/2013/09/03/republic-act-no-10620/