SM BUDDY WINS GRAND STEVIE AWARD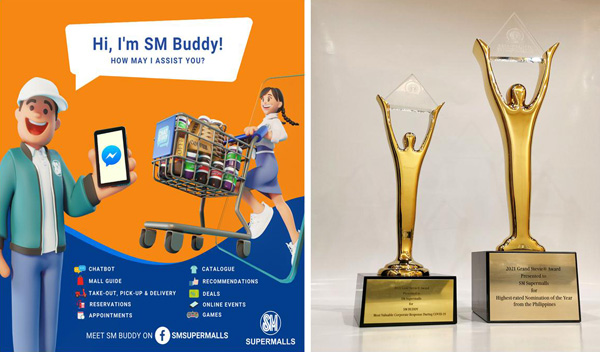 SM Buddy campaign of SM Supermalls was awarded the Grand Stevie Award on this year's Asia Pacific Stevie Award for having the highest-rated nomination of the year for all Philippine entries.
It also bagged the Gold and Bronze Stevies for the Most Valuable Corporate Response under the Covid response category and Most Valuable Service.
The virtual shopping assistant was born amid the pandemic which utilized the existing and new features of Facebook – Newsfeed, Messenger, Facebook Offer, Facebook Live & Facebook Shop for a fun, easy, and convenient malling experience.
Through this service, SM Buddy provides a sustainable employment program across local communities by partnering with tenants and local stakeholders such as delivery service partners, public transportation drivers, and MSMEs.
These global awards stand as testimony to SM Supermalls reputation as some of Asia-Pacific's most innovative companies, employing creativity and corporate social responsibility in the different areas of its business. ###