Regional top drug personality nabbed, P240K Marijuana seized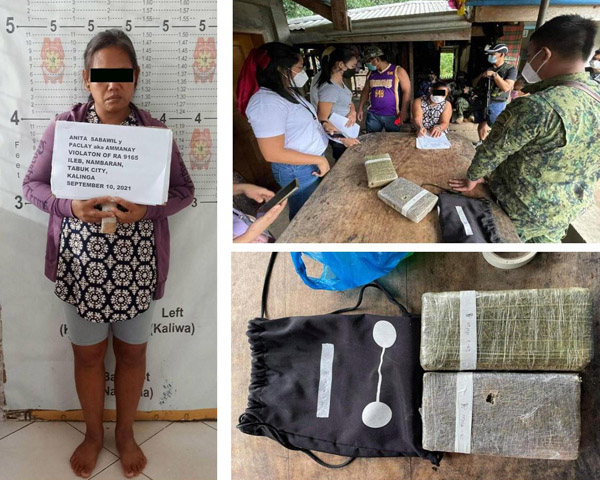 CAMP MAJOR BADO DANGWA, La Trinidad, Benguet – (September 11, 2021) – A female listed under PROCOR's Regional Top Ten Drug Personality was arrested after the implementation of Search Warrant in lleb, Nambaran, Tabuk City, Kalinga in the morning of September 10, 2021.
According to the reports submitted to the Regional Director, PBGEN RONALD OLIVER LEE, joint elements of Kalinga PPO, RID PROCOR, RMFB15, and RACU COR, implemented a Search Warrant issued by Presiding Judge Randy B. Bulwayan, RTC Branch 39, Lubuagan, Kalinga that resulted in the arrest of Anita Paclay Sabawil a.k.a Ammanay, 47, and native of Tinglayan, Kalinga.
During the implementation of the Search Warrant, found and confiscated at 'Ammanay's' residents were two (2) bricks of dried Marijuana leaves and stalks wrapped in a cling wrap weighing 2,000 grams with an estimated value of PHP 240,000.00.
Markings and inventory of the confiscated pieces of evidence were done on-site in the presence of Brgy. Captain Jimmy Suwagon of Barangay Nambaran, Tabuk City; a Media Representative, Ms. Melisa Guavez; and DOJ Representative, Lailanie S. Balao-ing.
Ammanay and the confiscated pieces of evidence were brought to Tabuk CPS for documentation and proper disposition, while a case for violation of RA 9165 or the Comprehensive Dangerous Drug Act of 2002 is being prepared for filing against her. (PROCOR-PIO)