PROCOR joins Tublay uphill bike for a cause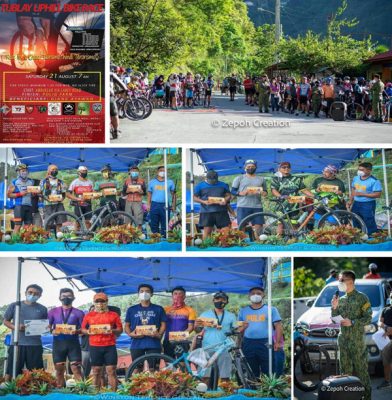 CAMP MAJOR BADO DANGWA, La Trinidad, Benguet – (August 27, 2021) – Regional Mobile Force Battalion 15 together with Bayanihan Cordillera and Pinikpikan Team Trail Runner organized a Bike For A Cause on August 21, 2021.
More than just a biking event, Tublay Uphill Bike race with a theme "Turismo hindi Terorismo", aims to raise funds and help baby Giane Ayawan who is suffering from Stage 3 Liver Cancer.
Also, the activity aims to promote tourist spots in Benguet and raise awareness of the community in combating modern terrorism.
The charity effort was made successful through the collaboration of the different organizations such as Bayanihan Cordillera, Department of Tourism-CAR, Tublay Local Government Unit, Batallion Advisory Council of RMFB15, Team Pinikpikan trail runners, RMFB15, Time Pine, Aid Station Coffee, Ridge Coffee, Highway Patrol Group and BFP Tublay and Mr. Ben Polig, owner of Polig's Berries Farm as the event host.
The 17 Km route started from Ambuklao to Polig's Berry Farm in Km. 21 Golon Ambassador, Tublay, Benguet, this was participated by more than 100 bikers from different organizations.
The organizers were able to raised PHP 50,331.00 which was given to the father of the Baby Giane, this will help the family ease the financial needs of the child while undergoing chemotherapy and other medical procedures. (PROCOR-PIO)