Marijuana eradication yields P20.23M worth of marijuana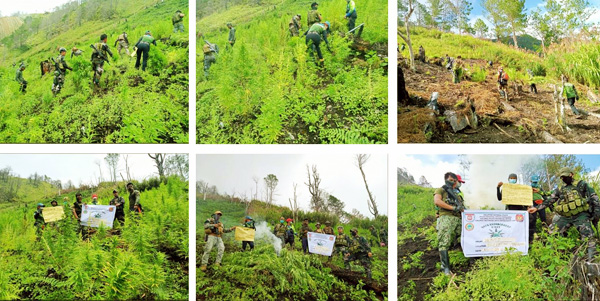 The conduct of intensified Marijuana Eradication in the region led to the discovery of dried marijuana leaves and Fully Grown Marijuana Plants (FJMP) with estimated Standard Drug Price (SDP) amounting to Php 20, 230,00.00 in ten separate plantation sites in Brgy. Loccong, Tinglayan, Kalinga on August 25, 2021.
According to reports submitted to PBGEN RONALD OLIVER LEE, Regional Director, the discovery and destruction of the marijuana plants were jointly conducted by operating units of Kalinga PPO, RMFB15, RIU 14, RID/RSOG PROCOR and Naval Forces, Northern Luzon.
During the said operation, operatives discovered 87,950 pcs of FGMJP and recovered 20 kgs of Marijuana dried leaves with a total SDP amounting to Php 20,230,000.00 in ten separate plantation sites with an estimated land area of 8,100 sqm.
Documentation and photographs were done at the area of operation. Afterward, all the prohibited plants were burned on-site, while the intensive investigation is being conducted to identify possible cultivators. (PROCOR-PIO)