Nov. 23 is special non-working holiday in Benguet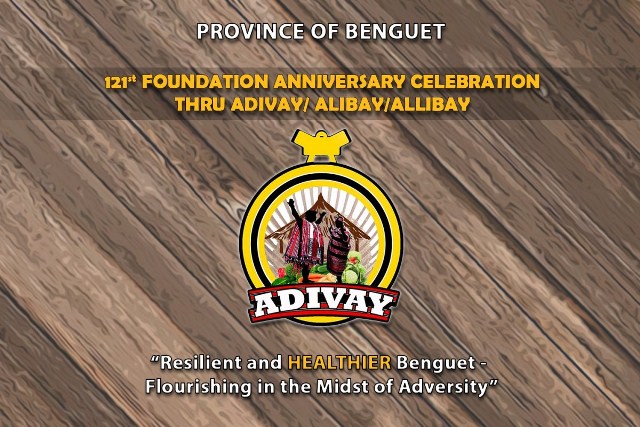 By Redjie Melvic Cawis
LA TRINIDAD, Benguet(PIA) — Malacanang has declared November 23, 2021, Tuesday, as a special non-working day in the province of Benguet to allow its people to celebrate the 121st Benguet Founding Anniversary.
"It is but fitting and proper that the people of the province of Benguet be given full opportunity to celebrate and participate in the occasion with appropriate ceremonies, subject to community quarantine, social distancing, and other health measures," stated Proclamation No. 1249 issued on November 15, 2021 by Executive Secretary Salvador Medialdea.
Benguet is celebrating its 121st Foundation Anniversary thru Adivay with the theme "Resilient and HEALTHIER Benguet – Flourishing in the Midst of Adversity."
Governor Melchor Diclas said that the anniversary celebration will proceed this year but complying with the health and safety protocols on COVID-19.
Due to the pandemic, activities for Foundation Day and Adivay will still be limited to ensure the safety against the COVID-19. Activities are toned down or minus the traditional gathering of people from the different municipalities in the province.
Diclas said that on Nov. 23, a traditional cañao and rituals and will still be performed followed by a simple program at the newly refurbished Benguet Sports Complex Gymnasium but with less activities unlike in the previous years where thousands of people gather at the sports grounds for the grand celebration.
The provincial government would still be preparing more than 20 pigs for rituals and food for the people but it will be distributed to the different local government units, district hospitals and other facilities in the province for thanksgiving.
This year's celebration, he said, will be part of the recovery process of the province and the people of Benguet while still faced with the challenges of the COVID-19 pandemic. It would showcase that people should learn and to live with the virus but still adhering to health protocols.
During the opening ceremony earlier, the provincial government made special appreciation to the healthcare workers who are the heroes of today in the midst of the COVID-19 pandemic. It also thanked the continued cooperation of the people, the government agencies and offices and other stakeholders to ensure a better response and management of the COVID-19 in the province.
Meanwhile, Malacanang also issued Proclamation No. 1248 declaring November 22, 2021, Monday, as a special non-working holiday in the municipality of Itogon in Benguet in celebration of its 121st Founding Anniversary.
Thru Executive Order No. 64 issued by Mayor Armando Lauro, Nov. 22 is also a special non-working holiday in the municipality of Tublay for its121st founding anniversary. (JDP/RMC-PIA CAR)