Gawad Kalikasan Award conferred to Ifugao PPO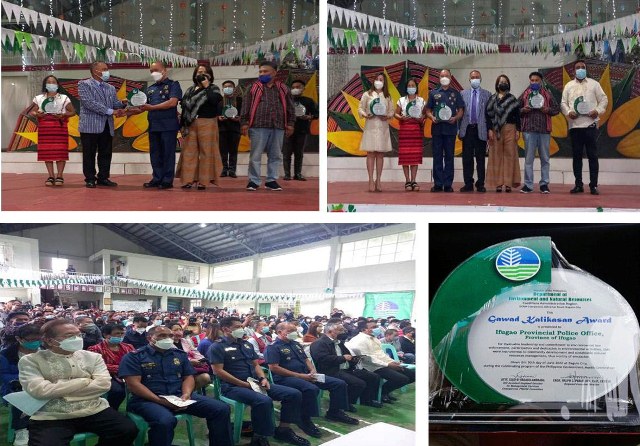 As a partner organization in environmental protection, Ifugao Police Provincial Office under the leadership of its Provincial Director, PCOL JAMES D MANGILI, was conferred with GAWAD KALIKASAN AWARD during the 35th Anniversary of the Department of Environment and Natural Resources—CAR held at the DENR-CAR Regional Training Center, DENR Compound, Pacdal, Baguio City on June 30, 2022.
The DENR CAR recognizes the efforts of Ifugao PPO in helping the agency to achieve its mandate on environmental protection, ecological stability, and economic upliftment through several activities such as tree planting, environmental awareness through information education campaigns and prompt response in the implementation of laws with regards to environmental awareness and protection.
With the advocacy of the Philippine National Police under its core value "MAKAKALIKASAN", the acknowledgement given to Ifugao PPO is a reinforcement to assure the support of the organization in nature preservation.
In a statement, PCOL MANGILI assured that Ifugao PPO will continue to work and collaborate with other agencies and advocacy support groups to ensure that environmental programs and laws are being implemented. (PROCOR-PIO)