FARMER HELD OVER ILLEGAL POSSESSION OF FIREARMS IN PINUKPUK, KALINGA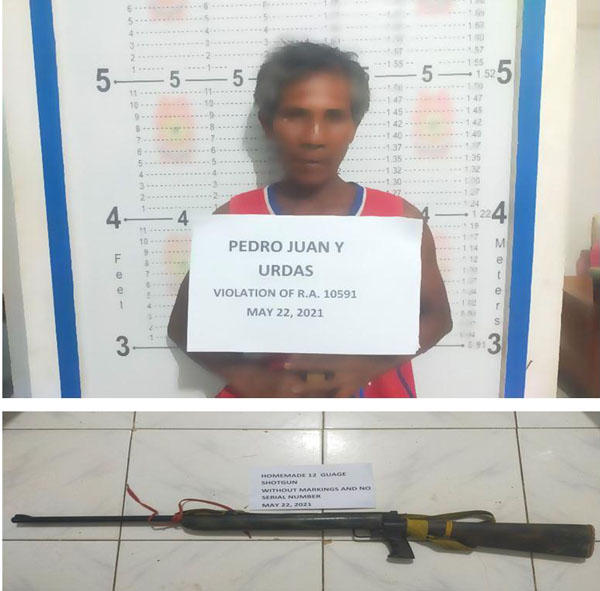 CAMP MAJOR BADO DANGWA, La Trinidad, Benguet – A farmer is now facing charges for violation of RA 10591 or the Comprehensive Firearms and Ammunition Regulation Act after he was reported for firing indiscriminately at Sitio Bayug, Junction, Pinukpuk, Kalinga in the afternoon of May 22, 2021.
Citing the reports given to the PROCOR Regional Director, PBGEN RONALD OLIVER LEE, identified the suspect as Pedro Urdas Juan, 50 years old, farmer, and a resident of Junction, Pinukpuk, Kalinga.
According to the Kalinga Provincial Director, PCOL DAVY LIMMONG, after receiving a call from the Municipal Mayor of Pinukpuk, Hon. Irving B. Dasayon, about a man who is firing a gun at the grasslands of Sitio Bayug, police force of Pinukpuk Municipal Police Station (MPS) has immediately responded in the area.
As they arrived, Hon. Dasayon and some residents pinpointed the exact location of the suspect.
Tactically moving towards the suspect's location, the police force saw him sitting in front of his bunkhouse holding his firearm. They then approached the suspect and asked him for any documents and or license of the firearm he was holding but he failed to show any. He was then arrested by the police.
Along with his arrest is the seized homemade 12-gauge shotgun without markings and serial number.
Suspect Juan and the seized item were brought to Pinukpuk MPS for documentation and proper disposition. ((PROCOR-PIO)