BSU prepare all the documents to change status from College of Agriculture to National College of Highland Agriculture and Environment – Pres. Comila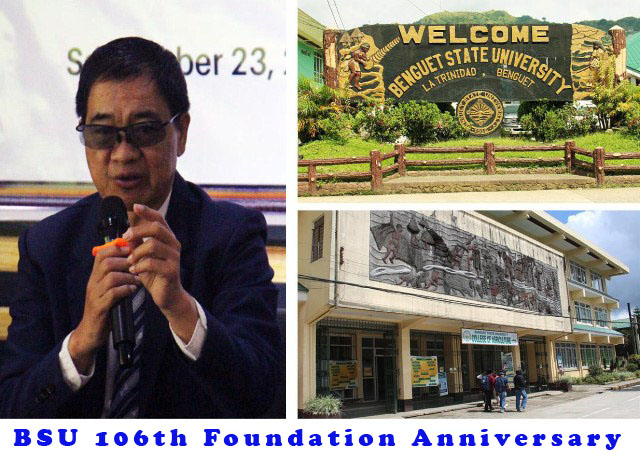 La Trinidad, Benguet – Benguet State University President Felipe Salaing Comila invites the people from the province of Benguet for the 106th Foundation Anniversary from September 26 to 30, 2022 lining up a series of activities to honor and celebrate BSU's glorious past and look forward with excitement to its promising future.
In the opening statement of University President Comila during the Kapihan at BSU, some views were discussed about the updated issues at the BSU campus which opened extension classes in the two municipalities of Kapangan and Kabayan aside from the existing campuses in La Trinidad, Buguias, and Bokod.
And also the status of the National College of Highland Agriculture and Environment.
Comila said, "Right now, the status I asked Dr. Romeo Agcon Gomez to prepare all the documents needed towards that and we will also request to Congressman to file a bill to that National College of Highland Agriculture the other one, aside from collecting documents is now going for benchmarking to UP and other Universities,"
"To build more rehab buildings is a matter of documentation change of status from the College of Agriculture to National College of Highland Agriculture and Environment.
Possible to other municipalities, It will happen that there will be enrollees, we will offer again another college there maybe one section or two sections any course that there will like because BS Agriculture is many specializations so, it depends on which specialization there will like to have in different campuses, In fact, in Itogon ang gusto nila Agriculture, "I just wonder bakit Agriculture, dapat mining engineering,"
"So, this two extension campus in Kapangan ang Kabayan is now opened two courses which is Criminology and Education course and I hope na magbukas pa tayo sa ibang municipality ng extension classes na malayo dito sa La Trinidad at yun ibang tanong niyo na what are the other courses pa ang kailangan ng BSU? Mayron na lumalabas na Disaster Management course dahil iyan ang kailangan natin ngayon," Pagtatapos ni Comila.
Meanwhile, due to the suspension of work and classes today September 26, all events scheduled today were moved tomorrow (September 27, 2022). Mario D. Oclaman // FNS