BAN Toxics Launches Toxic-Free and Waste-Free Christmas, Promotes Recycled and Eco-friendly Parols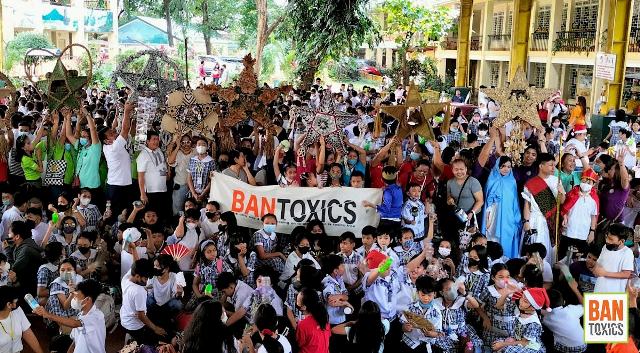 QUEZON CITY, December 7, 2022 – Environmental group BAN Toxics, together with thousands of students, teachers, and parents of General Roxas Elementary School (GRES), launched its annual school-based campaign promoting a toxic-free and waste-free Christmas celebration.
Students, teachers, and parents joined the event which aimed to reduce the holiday trash in time for Christmas celebration. The event also aimed to encourage the public to be mindful in protecting and preserving the environment this yuletide season.
"It's high time to raise awareness to our students, teachers, parents, and the community on the importance of promoting toxic-free and waste-free celebration in the country," said Thony Dizon, Toxics Campaigner of BAN Toxics.
The highlight of the program was a showcase of creative parols designed by select students from all grade levels and SPED. Using only dried leaves, coconut husks, coconut shells, broomsticks, grass, corn husks, old papers, and used cartons, the typical plastic-made parols turned into beautiful lanterns made out of recycled and eco-friendly materials.
To raise awareness on the principles of 3Rs: reduce, reuse, and recycle, each group briefly shared their stories behind the eco-friendly parols. The importance of managing waste materials in the school and at home for the holiday season was also discussed afterwards.
"We encourage the students, teachers, and parents to practice proper waste management in their homes, schools, and in their communities. The school is the second home of the students. We want to protect them from toxic chemicals, and provide a safe and healthy environment for them," said Antonio Miranda, Principal of GRES.
Citing the information from MMDA Solid Waste Management in Metro Manila 2022, the per capita waste generation is estimated at 0.2650 to 1.0032 kg per person per day.
BAN Toxics also noted that the trash before and during the holiday season increases since people are busy decorating, gift shopping, and partying. The garbage generated can be reduced if it's managed properly by following the principles of 3Rs: reduce, reuse, and recycle.
To further reduce the generation of waste during the holiday, BAN Toxics listed down the following tips:
1. Prepare a list before going to the store to help avoid impulse buying.
2. Bring reusable bags and containers for shopping to cut down the use of plastic bags.
3. Christmas decorations, use eco-friendly materials or follow DIY decors using recycled materials.
4. Buying Christmas lights and other electrical decorations, check the label properly, look for the PS Mark and ICC Sticker for safety standards.
5. Holiday gatherings and parties, use reusable and washable plates, cups and cutlery.
6. Choose toy gifts that have passed the labelling requirements under RA 10620.
7. Gift wrapping, if needed, be creative and use waste-free gift wrapping ideas.
8. Patronize locally-produced and/or home-made products, and
help the local economy.
9. Promote "gift-giving from the heart" such as donating to charity, giving gifts to the less fortunate, and other charitable and environmental activities.
10. Minimize food waste, make an estimate of what to be consumed, share the leftover food to others or safely store for later consumption.
"We appeal to the public to be mindful of our holiday trash. Let's practice reducing, reusing, and recycling. It is our duty and responsibility to reduce our exposure from toxic harm while enjoying the yuletide season," BAN Toxics added. # (PR)