Baguio vaccination program moving towards herd immunity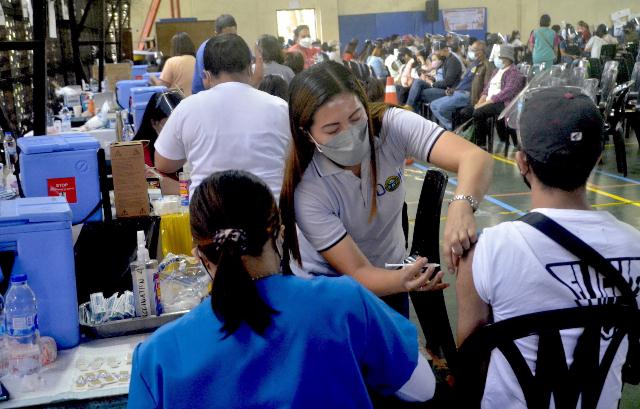 By Carlito Dar
Baguio City Vaccination at Saint Louis University Gymnasium. (CCD/PIA CAR)
BAGUIO CITY (PIA) – – The vaccination program of the city government continues to move at full blast in line with the target to vaccinate 95 to 100 percent of the estimated 281,000 eligible population in the city by yearend.
As of October 19 data of the City Health Services Office, a total of 390,302 COVID – 19 vaccine doses have been administered in Baguio.  About 84.50 percent or 237,448 of the target population received their first dose while  173,626 or 61.78%   are already fully vaccinated.
Of the fully vaccinated population, 22,428 are frontline health workers (A1); 29, 247 are senior citizens (A2); 47,178 are adults with co-morbidities (A3); 65,747 are essential workers (A4); 8,943 are from the indigent population, and 88 from the Rest of the Adult Population (ROAP).
With the vaccination program already opened to all eligible adult populations in Baguio, scheduling of vaccination activities is continuing with Saint Louis University Gymnasium, University of Baguio Gymnasium, SM City Baguio and Baguio Country Club as vaccination sites.
Drive thru vaccination is also being scheduled at the Baguio Athletic Bowl while mobile vaccination activities are also being conducted for the eligible populations who cannot go to the vaccination sites due to physical or medical conditions.
Aside from the vaccines being allocated by the National Vaccination Operations Center, the city government also purchased 190,000 doses of AstraZeneca. Baguio City also just received 21,900 of Pfizer and 160 doses of AstraZeneca vaccine allocation from the NVOC on Thursday (October 19).
In line with the directive of the NVOC for the pilot run of the pediatric vaccination of 12 to 17 years old children with comorbidities, the city government has started the registration of eligible 15 to 17 years old last October 14 and will accept the registration of 12 to 14 years starting October 22.
Meanwhile, through the directive of Mayor Benjamin Magalong, the city government started assisting in the vaccination of residents of Benguet municipalities particularly La Trinidad, Itogon, Sablan, Tuba and Tublay who are working in Baguio City. (JDP/CCD-PIA CAR)