Aboitiz Group participates in Nordic Sustainability Award panel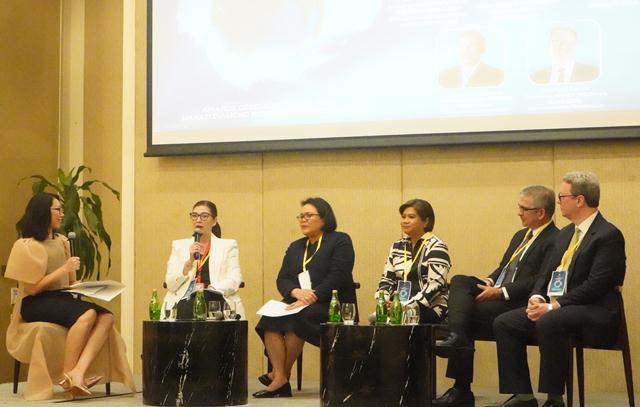 In Photos: SGV Partner for Climate Change and Sustainability Services Katrina Francisco (left-most) moderated the panel, which featured the following speakers (from second-left-most) AEV Chief Sustainability Officer Ginggay Hontiveros, Ayala Corp. Head of Group Risk Management and Sustainability Ma. Victoria Tan, Gokongwei Group Sustainability Head Yvonne Purisima G. Flores, Jollibee Chief Sustainability Officer Jose Maria Miñana, and SM Investments Sustainability Consultant Timothy Daniels.  (Aboitiz Group file photo)
At the Nordic Sustainability Awards, Aboitiz Group's Chief Sustainability and Reputation Officer Ginggay Hontiveros-Malvar expressed the Group's unwavering commitment to sustainability. She emphasized that sustainability reflects Aboitiz's dedication to a higher purpose, encompassing their concern for people, the planet, and the provision of sustainable employment opportunities. This reaffirms Aboitiz Group's holistic approach toward building a sustainable future and contributing to the well-being of communities and the environment.
The Nordic Sustainability Awards, organized by the Nordic Chamber of Commerce (NordCham) Philippines, were held on Wednesday, May 24, at the Makati Diamond Residences. ### (PR)
About Aboitiz Equity Ventures
Aboitiz Equity Ventures, Inc. (AEV) is the public holding company of the Aboitiz Group with major investments in power, banking and financial services, food, infrastructure, land, and data science and artificial intelligence. Today, AEV is recognized as one of the best-managed companies in the Philippines and the region, consistently cited for its commitment to good corporate governance and corporate social responsibility. With five generations of Aboitiz Group business success behind it, AEV continues to drive change for a better world by advancing business and communities.
The Aboitiz Group is a member of the Global Compact Network Philippines Board of Trustees and helps champion the Philippines' sustainability initiatives on an international level through policies, advocacies, and initiatives that align with the United Nations Global Compact (UNGC). The company has also launched its #OneAboitizSustainability Framework which aims to transform its life-essential businesses into having improved sustainable practices and a positive impact on the environment and society.
To know more about the #OneAboitizSustainability programs, please visit https://sustainability.aboitiz.com/.