Seat belt law offenses are the most apprehended transport violations in CAR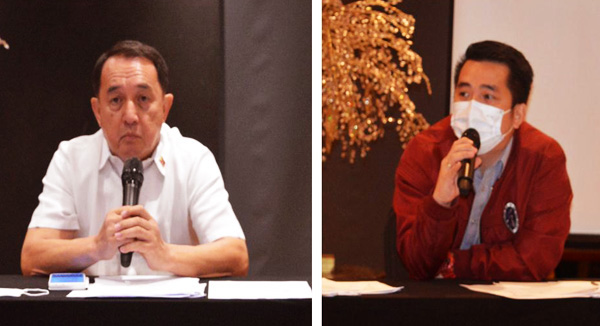 10-year DRIVER's LICENSE VALIDITY. Cordillera Land Transportation Office (LTO) Regional Director Francis Ray A. Almora (L) with LTO Legal Division and Law Enforcement Services Acting Chief Jessie C. Balagot (R) announces the extension of the validity of Philippine Driver's License to 10 years beginning October 2021, in a press briefing Tuesday, July 13, 2021 at G1 Lodge, Baguio City. The extended driver's license validity requires zero Demerit Points or zero violations committed within the 5-year period preceding renewal. Merriam del Rosario-FNS
BAGUIO CITY — Seat belt offenses, mainly the failure to buckle up, topped the list of the common land transportation apprehensions in the region for the first half of 2021, the Cordillera Land Transportation Office (LTO-CAR) reported Tuesday, July 13, 2021 during a press briefing held at the G1 Lodge here.
LTO-CAR Regional Director Francis Ray A. Almora said that from January to June this year, there were at least 2,510 apprehensions due to violations of Section I.G.1 of Joint Administrative Order (JAO) No. 2014-01 of the Department of Transportation and Communications (DOTC), the violation being described as "failure to wear the prescribed seat belt device".
The said offense also includes allowing a child six (6) years old and below to be seated on the front passenger seat.
The penalty for such offense ranges from PhP1,000 to PhP5,000, plus suspension of the driver's license for a week from the payment of the fine for the third and succeeding offense.
Other land transport violations topping the list of common apprehensions in the region included: 1)Failure to carry the vehicle's Official Receipt (OR)/Certificate of Registration (CR) and Driver's License (DL); 2)Driving an unregistered motor vehicle; 3)Non-Professional driver's reckless driving; and 4)Motor vehicle operating without or with defective/improper/unauthorized accessories, devices, equipment and parts, among others.
With reference to JAO No. 2014-01, committing any of the foregoing violations may cost the offender penalties for as much as PhP10,000 which may also result to the impounding of the motor vehicle, depending on the violation committed.
Non-confiscation of MV License Plate
LTO Legal Division and Law Enforcement Services Acting Chief Jessie C. Balagot said that an agreement has developed from initial talks with Baguio mayor Benjamin B. Magalong particularly when apprehending violators of land transportation laws.
Balagot said that a Memorandum of Agreement with the city government of Baguio has been reached, stipulating that LTO systems will be used when apprehending violators, like the non-removal of license plates.
"Hindi magtatanggal ng plaka dahil ito ang permanent identification ng vehicle," Balagot said. Merriam del Rosario-FNS