Post Office Valentine's Day special stamps launched in Baguio City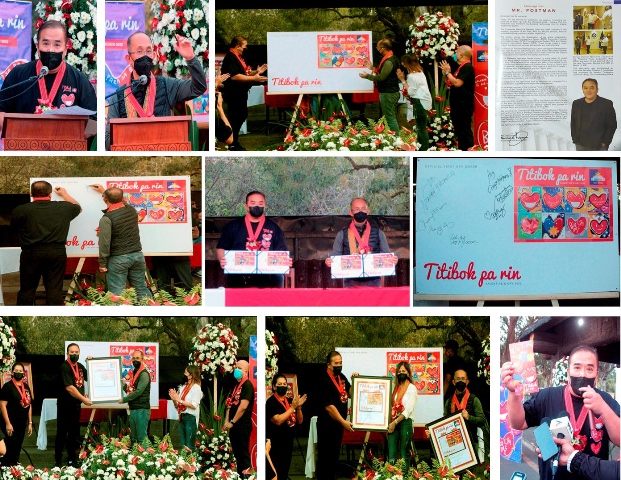 BAGUIO CITY – (February 10, 2022) The Philippine Postal corporation launched its Titibok pa rin Valentine's 2022 special stamps featuring designs that spread hope, strength and love in the midst of difficulties brought about by the pandemic to be held Thursday, February 10 at the Igorot Grandstand in Baguio City.
The Valentine's Day special stamp led the unveiling by Baguio City Mayor Benjamin B. Magalong and his wife Arlene together with Postmaster General Norman Fulgencio and other Post Office Officials.
Mayor Benjamin B. Magalong gave sincere gratitude on his message, "To the entire Philippine Postal Corporation under the leadership and management of our Mr. Postman Norman Fulgencio of course with his lovely wife Cherry, thank you for having us my wife, Arlene and I joining and celebrating the season of love, friendship and admiration.
Allow me to congratulate everyone and unveil the Titibok pa rin Valentine's 2022 Special stamps.
Congratulations to team Philippine Post Office we would like to congratulate all of you on this quite remarkably and brilliant project, Happy Valentine's Day, Mabuhay ang team Philippine Postal Office at Team Philpost,"
In an interview with Postmaster General Norman Fulgencio"This is a first time in Post Office in Baguio and this is a part of the innovation of our product if you will notice aside from the artwork that we have done here, we celebrated here in Baguio because it identified as a couple or a retreat tourist spot because of the weather, we decided to celebrate here our initial of our valentine's staff, hopefully by next year sa ibang lugar naman"
"Confronted with difficulties, some have lost their loved ones, many are struggling, feeling sad, scared frustrated and broken. The Post Office Valentine's Day stamp features broken hearts that are still willing to fight and love at sa kabila ng pandemiya, ang Pusong Pinoy ay titibok pa rin"
"People across the globe celebrate this day by sending love messages to partners, friends and family. This is the day to thank people, wherever they are for their love in the form of friendship, family, service and in all its forms"
"The designs for 2022 Valentine's Day celebrate the Hearts that are not often celebrated during Valentine's"
"The eight (8) heart stamps that express feelings or emotions are: Titibok pa rin, Nagmamahal pa rin, Lalaban pa rin, Nagmamalasakit pa rin, Magmamahal pa rin, Titibok para sa Bayan, Buo pa rin at Lumalaban pa rin. These are the hearts that really matter"
"In spite of the pandemic we are continuously upgrading our modernization such as digitalization hopefully within a month we will be launching our digitalization project. So ongoing ngayon yun HR at Finance yun mail management system natin in a couple of weeks we will be launching.
"We are still competitive especially once our full digitalization is a launch we will be having our own mobile application, direct payment of customs and duty sa website, online payment those are the modernization we are doing for the post office,"
Hatid Malasakit (Responsive, Efficient and Dynamic Postmaster)
Regarding on distribution of Philsys or National ID as of February 9,  we are hitting 65 percent which means our delay is now only about 600,000 so, more or less updated na tayo and continuously even Saturday and Sunday nagde-deliver ako sa office so, makakaasa kayo na lahat yan makakarating sa inyo as soon as possible, out of the 9 million that we receive as of last week ang nai deliver na natin ay 6.3 million.
Ang PhilSys ay nasa provinces pa wala pa sa NCR, ang focus ng PhilSys ay mai serve muna sa ating mga kababayan sa mga malalayong probinsya pinakahuli ang NCR," General Postmaster Fulgencio said
Valentine's Day celebrates the bond and the relationship between people. It is the day which teaches us how we express love, not just between couples, but also emphasizes the different kinds of love.
Stamps, postcards, souvenir sheets and official first-day covers of "Titibok pa rin 2022 Valentine's Special Stamps" shall be available starting February 10 at the Philatelic Counter, Manila Central Post Office in Liwasang Bonifacio.
For inquiries on the stamps, call (02)8527-0108 or (02)8527-0132 and follow and like Facebook page https://www.facebook.com/PilipinasPhilately/ Mario D. Oclaman // FNS