NEW ELECTED BOD CHAMBER 2022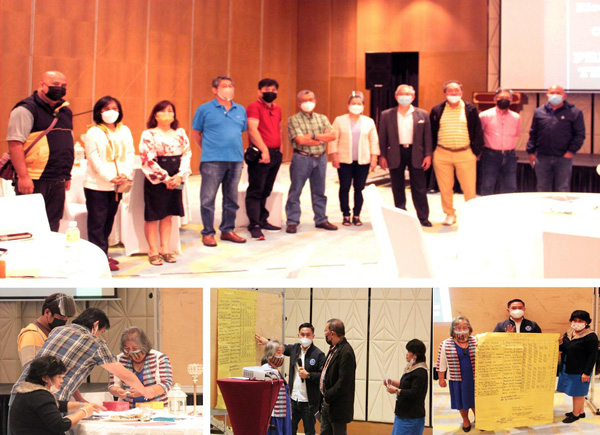 (Top Photo) Eleven new Board of Directors of the Baguio-Benguet Chamber of Commerce Chapter under the Philippine Chamber of Commerce and Industry has been elected during the General Membership Meeting and Election of PPCI-BBCI BOD for Chamber Year 2022 on June 24, 2021 at the Holiday Inn, Legarda road, Baguio City.
16 company candidates were presented from Baguio-Benguet Chamber members.
(Below photos) City Councilor Vladimir D. Cayabas – PCCI-BBCI presided as COMELEC Chairperson with the members councilor Philian Louise Weygan –Allan and Trinidad C. Trinidad after the casting and counting of votes.
The first highest votes go to the INTERLAND OIL FUEL STATION represented by Deimler O. Cuyan, followed by TOM PANIS Realty – Engr. Ernesto "Tom" C. Panis, BETA Broadcasting System, Inc (K-LITE) – Juan Johhny R. Dela Cruz, DACANAY Rice Commercial – Erlinda I. Dacanay, BSBT COLLEGE INC.- Marlene W. Baluyut, KRISTOFFE BENEDICT'S GENERAL MERCHANDISE – Roberto Pidal, MARCONS BUILDER INC. – Engr. Marciano L. Garcia, BAGUIO WATER DISTRICT – Engr. Salvador M. Royeca, MBI APARTELLE – Modesto B. Imayaho Sr., MJLAC Construction and Aggregates – Engr Mark Joseph G. Lacambra and lastly the BENGUET ELECTRIC COOPERATIVE (BENECO) – Engr. Melchor S. Licoben. Photo by: Mario D. Oclaman / FNS