Miss Baguio 2021 coronation night postponed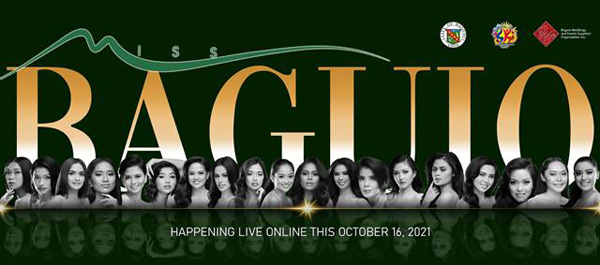 MISS BAGUIO 2021 CORONATION MOVED. The grand coronation of Miss Baguio 2021 takes place at the Baguio Convention Center and will be live-streamed on Saturday, October 16, 2021 at 5:30 pm. (Photo from Miss Baguio 2021 fan page)
BAGUIO CITY – The grand coronation night for Miss Baguio 2021 will not be pushing through on September 30 in compliance with the Inter-Agency Task Force for the Management of Emerging Infectious Diseases (IATF-EID) safety protocols, overall pageant director and choreographer Chai Ramos said on Tuesday, September 28.
"Due to IATF protocols, Miss Baguio coronation night was moved to Oct.16, 2021," Ramos said.
Ramos said that the pageant will go as planned, except for the re-scheduled coronation date.
Five major awards with corresponding cash prizes await the winning candidates, as well as sponsorship awards on top of the cash prizes.
Text voting for "Miss SMART" is ongoing, and extended until the coronation night on October 16, 2021. Voting mechanics are posted on Miss Baguio 2021 fan page.
The grand coronation will take place at the Baguio Convention Center and will be live-streamed on Saturday, October 16, 2021 at 5:30 pm.
Miss Baguio 2021 is organized by BWESO, endorsed by the City Tourism & Special Events Division (CTSED). The official photographer is Eros Goze Photostudio and Gallery.//Merriam del Rosario-FNS