Jerusalem: 'She is 12 years old, yet they have shot her'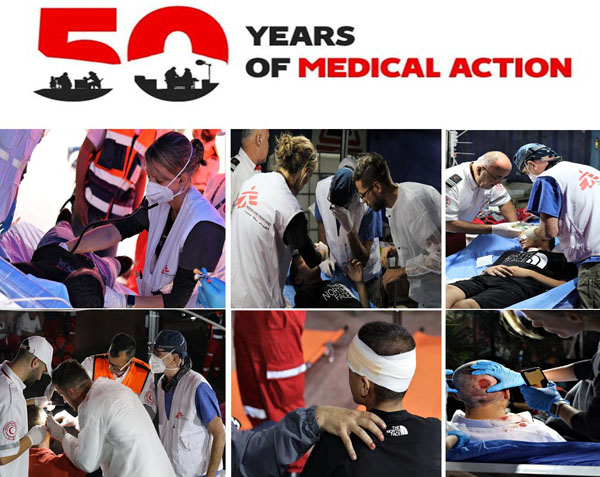 After hundreds of Palestinians were injured by the Israeli police in Jerusalem Doctors Without Borders / Médecins Sans Frontières (MSF) offered clinical support at the Palestinian Red Crescent Society (PRCS) Trauma Stabilisation Point in Wadi al-Joz, Jerusalem on Monday 10 May. Here, Dr. Natalie Thurtle, Doctors Without Borders Medical Coordinator, describes the work she did along with other Doctors Without Borders colleagues and the PRCS to assess and stabilise the wounded.
Doubtless you have heard of the violence that has been escalating in Jerusalem this past week. Hundreds of Palestinians, including children, have been injured. From the evening of 10 May to the morning of 13 May, the Gaza Ministry of Health reported that Israeli airstrikes had already killed 67 people, including 17 children, with nearly 400 injured. The Israeli authorities reported the death of seven people as a result of rockets and missiles launched by Palestinian militant groups in Gaza during the same period.
Doctors Without Borders/Médecins Sans Frontières (MSF) has been supporting the Palestinian Red Crescent Society (PRCS) in Jerusalem to assess and stabilize hundreds of Palestinians injured by the Israeli police.
Now, we share with you the experience of Dr. Natalie Thurtle, Doctors Without Borders Medical Coordinator, who has been working on the ground. An excerpt:
One of the first patients I see is Aliya*. She cries out as we edge her jeans off as gently as possible to examine her. She is 12 years old. She has a dark bruise the size of a man's fist on her upper thigh. Except it was not a fist that caused this, it was a rubber bullet. Aliya has been shot with a rubber bullet whilst walking with her mother near her home.
I ask her weight, in order to calculate the correct dose of pain relief for her. She weighs just 28kg, and she has been shot. She cannot walk, and we worry that she has a fracture in her femur. We transfer her to hospital for an x-ray.
My colleague Andy is suturing a 14-year-old boy, Walid. He has been hit in the face by a rubber bullet, less than a centimetre from his left eye. A tiny glance of fate has allowed him to keep his eye.
A boy treated by the PRCS and taken immediately to hospital earlier in the evening lost his left eye from a similar injury.
The picture of that injury flashes through my mind as I watch Andy and Rajah, one of our PRCS colleagues, expertly repairing Walid's young face. There is no-one with Walid. He sits for a few hours after in the TSP as we monitor his head injury, no one is able to come for him. I wonder if the person who shot him thinks about the impact of losing an eye for a 14-year-old.
Iftar, the breaking of the day's fast, comes as the sun sets. It is a quiet moment as we share a meal with our colleagues.
Then there is a big influx of ambulances, and 15 patients arrive in ten minutes. The team works quickly and efficiently to treat the cases and identify those that need to be transferred to hospital. We see someone with shrapnel injury to the neck; someone with a possible collapsed lung from being beaten with a rifle; an older man with a head injury whose decreasing level of consciousness makes us suspect a brain bleed.
I smell skunk water – unmistakeable, rancid. A chemical agent that smells like a mix between excrement and rotting flesh, the Israeli police fire it from water cannons. Maha, a young woman in a hijab, is being rushed into a treatment cubicle. She has been shot in the buttock with a rubber bullet, then fallen and injured her elbow after being shot, and finally been sprayed with skunk water whilst lying on the ground. It is on her face, on her hijab and clothing. She has vomited because the smell is so intense. She has had all her dignity taken from her. It is late and my eyes sting with hot tears, partly from the smell and partly from seeing what has been done to her. I swallow it and we treat her.
There is a lull. We hear that ambulances are being restricted to enter parts of the old city. We wonder if there are patients that need to come that cannot. The issue seems to be resolved as we receive another surge. We continue until our Doctors Without Borders team arrive to take the next shift, whilst our colleagues from PRCS just keep going, they will stay all night if they have to.
I cannot understate the incredible work of the paramedics we are working alongside. For days they have been managing the casualties from this particular escalation, and they have been successfully managing the complex pre-hospital needs of this vulnerable population for many, many years. There are no words to describe the impact of their work and the resilience and light they bring.
The narrative that those impacted by this violence are somehow deserving of it is wrong. The people I am seeing and treating are children and women and men, just like me and my family. These are humans who just happen to be Palestinian. ###
*All names of patients have been changed