Holcim Philippines, Bulacan rank-and-file union show solidarity with new CBA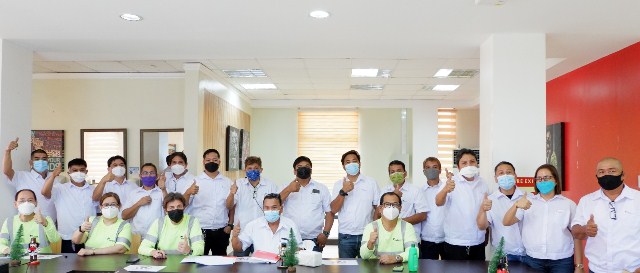 Photo Caption
Officials of Holcim Philippines and the Holcim Philippines Employees Association led by company president and CEO Horia Adrian and union president Richard Cruz, respectively, (first row, third and fourth from left) during the collective bargaining agreement signing on Dec. 6
Leading building solutions provider Holcim Philippines, Inc. and the rank-and-file union of its largest plant signed a new collective bargaining agreement (CBA) on Dec. 6 with employees pledging to support the company's efforts to drive performance.
The labor agreement will cover the Holcim Philippines Employees Association (HPEA), which has 112 members in its plant in Norzagaray, Bulacan. The CBA is effective until 2026 with the economic provisions in the third and fourth year of the deal open to renegotiation by 2024.
Holcim President and CEO Horia Adrian and HPEA President Richard Cruz led the signing activity. Senior Vice Presidents and Heads of Organization and Human Resources and Cement Industrial Performance Elynor Roque and Eung Rae Kim, Vice President for Operations and Bulacan Plant Manager Bobby Garza, Human Resources Business Partner Tania Santiago and HPEA officers witnessed the activity.
Holcim Philippines President and CEO Horia Adrian: "Bulacan made tremendous operational and sustainability improvements this year due to the hard work and dedication of its people including members of HPEA. With this CBA's closing, we can refocus on further transforming our Bulacan plant into one of the best sites in the Holcim Group and the country. My sincerest thanks to HPEA for your support and the sustained dialogue that allowed us to finalize this agreement."
HPEA President Richard C. Cruz: "We are thankful to the management for the open and continuous communication to arrive at a mutually beneficial agreement. We at HPEA are excited to drive performance of the Bulacan plant and help grow the company."
About Holcim Philippines
Holcim Philippines, Inc. (Philippine Stock Exchange: HLCM) is one of the leading building solution companies in the country. The Company has a deep portfolio of innovative solutions fostered by a full range of products from structuring to finishing applications that can help local builders execute with high performance and efficiency a wide range of projects from massive infrastructure to simple home repairs.
With cement manufacturing facilities in La Union, Bulacan, Batangas, Misamis Oriental and Davao, as well as aggregates and dry mix business and technical support facilities for building solutions, Holcim Philippines is a reliable partner of builders in the country.
Holcim Philippines is also committed to the highest standards of sustainable operations and manufacturing excellence with its plants certified under ISO 14001:2004 (Environmental Management System), ISO 9001:2008 (Quality Management System) and OHSAS 45001:2018 (Occupational Health and Safety Management System).
Holcim Philippines is a member of the Holcim Group, the world leader in the building materials industry present in 80 countries with over 70,000 employees.
About Holcim
Holcim builds progress for people and the planet. As a global leader in innovative and sustainable building solutions, Holcim is enabling greener cities, smarter infrastructure and improving living standards around the world. With sustainability at the core of its strategy Holcim is becoming a net zero company, with its people and communities at the heart of its success. The company is driving the circular economy as a world leader in recycling to build more with less. Holcim is the company behind some of the world's most trusted brands in the building sector including ACC, Aggregate Industries, Ambuja Cement, Disensa, Firestone Building Products, Geocycle, Holcim and Lafarge. Holcim is 70,000 people around the world who are passionate about building progress for people and the planet through four business segments: Cement, Ready-Mix Concrete, Aggregates and Solutions & Products.