Farmer arrested for planting marijuana alongside his cabbages in Atok, Benguet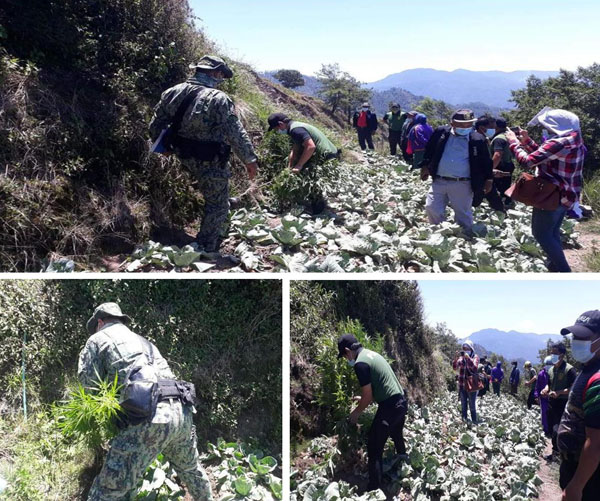 CAMP MAJOR BADO DANGWA, La Trinidad, Benguet – A farmer was arrested by joint forces of Benguet police and PDEA CAR after caught in the act tending his marijuana plants planted near his cabbage garden plots at Sitio Colbong, Cattubo, Atok on May 17.
Citing the reports given to the PROCOR Regional Director, PBGEN RONALD OLIVER LEE disclosed that while the operatives are conducting marijuana eradication, they arrested the marijuana cultivator identified as Michael Banda-ay Bitabit, 61 years old, farmer, and a native of Bontoc Mountain Province, presently residing at Sayangan, Paoay, Atok, after they spotted him tending his Marijuana Plants.
Planted along the edges of his cabbage garden plots, a total of 26 pieces of fully grown marijuana plants with Standard Drug Price (SDP) of Php 6,000.00 were uprooted.
In addition, scouring further the surrounding areas of the plantation, operatives found withered marijuana stalks in the process of drying with an estimated weight of one (1) kilogram and SDP of Php 120,000.00.
Bitabit and all the discovered marijuana plants and marijuana stalks were brought to PDEA Office at Camp Major Bado Dangwa, La Trinidad, Benguet for documentation and proper disposition.
He is now facing charges for violation of the Comprehensive Dangerous Drugs Act of 2002 (RA 9165). (PROCOR-PIO)