BARANGAYANIHAN IN ABRA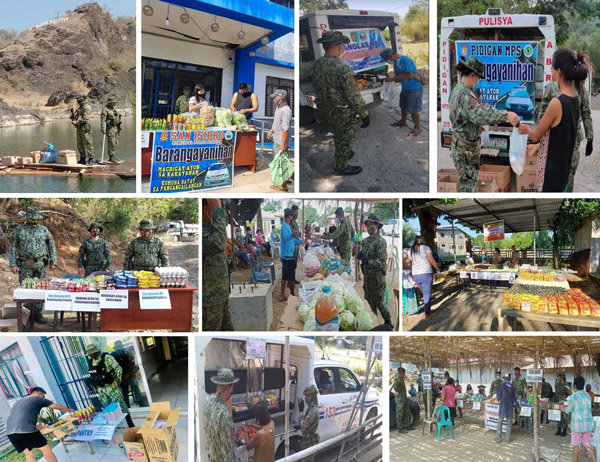 ABRA – (April 26, 2021) – In Abra, the spirit of "Sinnaranay" or bayanihan continuous to live on as the Abra cops extended their services in the different communities through giving.
Started on April 19, the Pidigan Municipal Station (MPS) established a community pantry in front of their station.
Pidigan cops thought of setting-up a table in front of their station where they could put and share their vegetables to their neighbor. Seeing many residents stopped by in their pantry, they decided to contribute some amount from their own pockets to buy other food supplies to add in their pantry.
The police station's initiative caught the attention of their LGU and some NGOs who immediately expressed their support by giving financial aid for the continuity of their pantry.
With the support they have received, Pidigan cops decided to bring their pantry to the different barangays particularly at the barangays which needed the most.
And as the Pidigan MPS continues there BARANGAYanihan, in April 21, Bangued MPS was encouraged to start their own community pantry which was then followed by other MPS.
To date, all 27 Municipal Police Station with two (2) Mobile Force Companies including the Abra Police Provincial Headquarters have already established their BARANGAYANihan in their respective community.
Since the start of the COVID-19 pandemic in 2020, BARANGAYANihan is only one of the initiated activities of the Police Regional Office Cordillera to uplift the morale of the community. (PROCOR RPIO)