Aboitiz Construction to build five warehouses for FAST Logistics Group in Cebu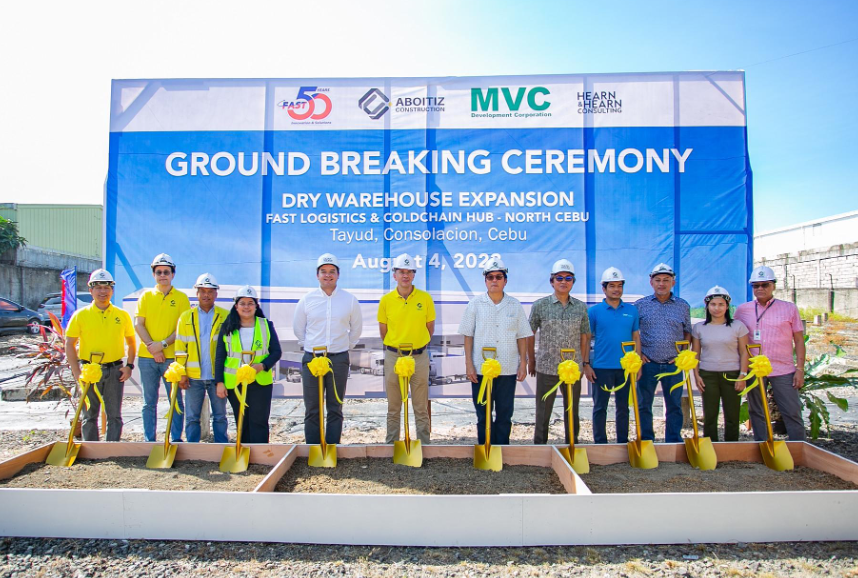 FULFILLING AN EXPANSION PROJECT. As part of the expansion of FAST Logistics Group, Aboitiz Construction was tapped to design and build five warehouses located in Consolacion, Cebu. (Aboitiz Construction File photo)
Aboitiz Construction recently engaged in a partnership with FAST Logistics Group to design and build five ambient warehouses, along with ancillary and utility spaces, on an 18,531 sq.m land area in Consolacion, Cebu. A groundbreaking ceremony was held last August 4 together with property developer MVC Development Corporation and project management consultant Hearn & Hearn Consulting.
"This partnership affirms our capability to build large-scale infrastructures and contribute to the success of our clients. Our roots as a company started in Cebu, so we are beyond excited to once again make waves in the province and provide innovative design and construction solutions to our partners," said Aboitiz Construction Chief Operating Officer Ramez Sidhom.
Set to be completed within ten months, the project will be hiring more than 200 skilled workers at peak, prioritizing local talents.
The project is part of FAST's continued expansion efforts to diversify its warehouse footprint as one of the leading logistics and selling distribution solutions companies in the Philippines.
In his message, FAST Logistics Group Chief Executive Officer (CEO) Manny Onrejas Jr. acknowledged the importance of partners in this undertaking. He also emphasized that the construction project is a demonstration of how FAST supports a customer-focused approach by regularly finding ways to improve service quality and go beyond the expectations of clients.
As the Aboitiz Group undergoes its Great Transformation to become the Philippines' first techglomerate, the construction arm will introduce value engineering practices that promote quality and cost-efficient materials and technology like the use of high-strength steel instead of conventional steel structure. The former is proven to be lighter, much stronger, and significantly cuts the erection time in construction.
Aboitiz Construction has been expanding its expertise in the light industries as it continues to advance business and communities by building quality warehouses, helping expand the logistics industry, and doing site development works. Last month, it kicked off a new site development project in LIMA Estate, Aboitiz InfraCapital's thriving economic estate in Lipa-Malvar, Batangas that hosts more than 150 locators. ### (PR)
About Aboitiz Construction
Aboitiz Construction is the privately-held construction company of the Aboitiz Group, with over 40 years of nationwide track record in heavy industries, light industries, infrastructure, and industrial maintenance. We build for industries to prosper and for communities to thrive.