5ID COMMANDER LAUD BRAVE TROOPS AFTER A FIREFIGHT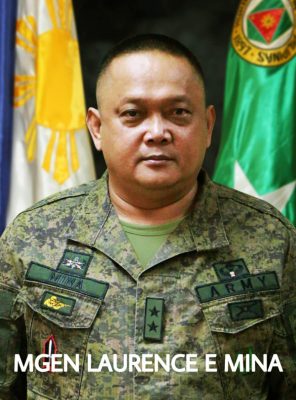 SAN MATEO, ISABELA- MGen. Laurence E. Mina, commander of 5th Infantry Division (5ID) based at Camp Melchor F Dela Cruz, Brgy. Upi, Gamu, Isabela lauded the bravery of the four Wounded in Action (WIA) soldiers after a 30-minute firefight against the Communist New Peoples Army Terrorists (CNTs) in Brgy. Capellan, City of Ilagan, Isabela on Aug. 13, 2021.
The WIAs are members of the 95th Infantry Battalion under 5ID's watch who braved to verify the veracity of the locals' report. It is said that there were presence and extortion activities of the CNTs thus the combat operation. The firefight ensued when the government troops were fired by more or less 10 CNTs who belong to Regional Sentro de Gravidad of the Komiteng Rehiyon-Cagayan Valley.
The Tactical Operations Group 2 on the other hand immediately dispatched an air asset to provide Close Air Support to the ground troops. This prompted the CNTs to immediately leave the area.
Recovered in the site were: an M16 Rifle, two shotguns, three short M16; 53 pieces of 5.56 ammunition; five 12-gauge shotgun ammunition; and CNT's personal belongings.
"The CNTs have no place to hide. The people will keep on reporting to the authorities their whereabouts to protect themselves from CNT threats, harassments, and extortion activities," Mina said who immediately visited the WIAs after the virtual command conference with the Chief of Staff and Commanding General of the Armed Forces of the Philippines.
The slightly wounded soldiers were safely extricated from the encounter site and were given immediate medical attention.#   By: Mae Barangan