4th Edition Man of the World Candidates 2022 MEDIA Conference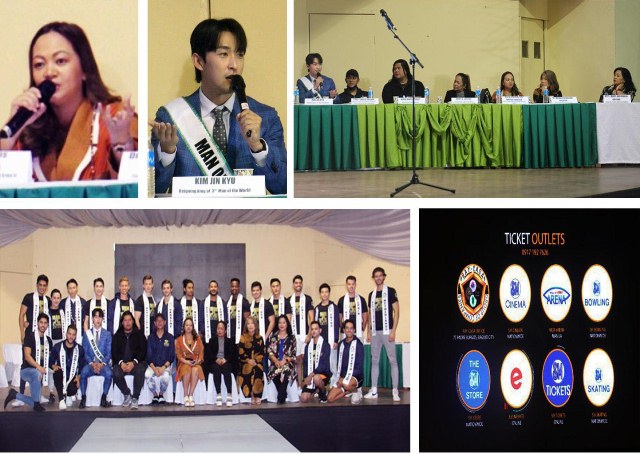 BAGUIO CITY – Around 22 candidates for the Man of the World presents to the media with the panelist headed by (5th from left) Direk Jianlin De Los Santo-Floresca – Chairman, 4th Man of the World, CEO-COO RAY-CASA Group of Companies; (from l-r) KimJin Kyu – 2019 Reigning King of Man of the World; Pres Carlo Galang – Founder of Man of the World, President Prime Event Production Philippines; Direk Kniel Harley – International Pageant Director; Jinky D. Lontoc – Line Producer 4th Man of the World, Vice President of Ray Educ. Ph. International; Dr. Maria Catbagan-Aplaten – Founder, Hapiyoh MI Culture and Arts Center and Atty. Mary Ann Manja Bayang – Indigenous People's Right International.
The open forum with the on-site media and virtual online vlogger raised their questions to the candidates and panelists held at the Easter College on June 12, 2022.
These delegates from around the world will visit Baguio and its neighboring towns to promote the theme of this year's pageant, "Recovery of Tourism, Appreciation of Culture and Preservation of Heritage" for this Region of the Philippines known for its rich culture which is worth teaching the world. Notable also that the chairman of the host city (Chairman – Jennlyn D. Floresca, CEO-COO of Ray-Casa) is from the Cordilleras.
Ray-Casa accepted the hosting of this international event as this year it is the company's corporate social responsibility. It is their way of connecting "GLOCAL" (Global and Local) business to the world after the pandemic.
This June 18, 2022, at the Baguio Convention Center another king will continue to deliver the projects and advocacies of Man of the World goes hand-in-hand with its Philippine partner, the Ray-Casa Group of Companies.
It is said that Man of the World is the male counterpart of the pageant Miss Universe. This competition is anchored by its campaign slogan, "Masculinity with Responsibility" The competition started in 2017 with 28 candidates promoting education as the pageant cause. Tifa Elizale of Egypt won as the first king of this International event. Mario Oclaman /FNS