𝟱𝟯 𝗧𝗩𝗘𝗧 𝗴𝗿𝗮𝗱𝘂𝗮𝘁𝗲𝘀 𝗿𝗲𝗰𝗲𝗶𝘃𝗲 𝗱𝗶𝗽𝗹𝗼𝗺𝗮 𝗶𝗻 𝗕𝗮𝗴𝘂𝗶𝗼 𝗖𝗶𝘁𝘆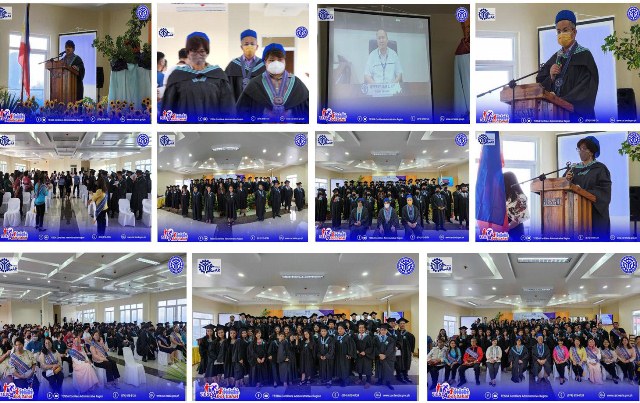 BAGUIO CITY-A total of 53 students of the Baguio City School of Arts and Trades (BCSAT) received their diplomas during the graduation ceremony held at the BCSAT Multipurpose Hall on April 29, 2022, with the theme Tech-voc Graduates: the epitome of competitive workforce of the 21st century amidst global challenges.
Of the 53 graduates, 23 have finished a 2-year Diploma in Culinary Arts; 10 in a 3-year Diploma in Culinary Arts; and 20 in 3-year Diploma in Hospitality Supervision.
The graduation rites were spearheaded by the BCSAT Vocational School Administrator, Ms. Arlene L. Cadalig and TESDA Baguio-Benguet Provincial Director Jimmicio S. Daoaten.
The event's keynote speaker, Ms. Evangeline Payno, assistant of Baguio Country Club (BCC) General Manager Mr. Anthony de Leon congratulated the graduates and emphasized the importance of skill in the job market.
"Skills remain to be the global currency up to this time. Before you can get into an industry whether private or public, skills are needed. Hindi po uubra ang PM is the key, skills are the key to get hired, hard-earned skills and training," Payno said.
"I congratulate BCSAT and TESDA for completing its mission to educate, and for leading the way for our tech-voc graduates to open new doors and opportunities to participate constructively in the global economy, engaging policy and advance specific life society by using information technology and skills to produce a flexible labor force that will react effectively to the labor market," she added.
Meanwhile, on the recorded message of Regional Director Jeffrey Ian C. Dy, he also congratulated the graduates.
"Congratulations to the 53 graduates of the Diploma Programs in Culinary Arts and Hospitality Supervision, the first batch of graduate scholars of the pilot implementation of the Philippine Qualification Framework (PQF) Level V diploma program of TESDA in the Cordillera. You are the first holders of the 12 national certificates which are recognized not only locally but also abroad. Remember that you can utilize these national certificates and these diplomas to start not only your own business to provide for your families but also to become members of a more productive workforce," he said.
"The greatest challenge to you after this graduation will be beyond the four walls of your training institution, the application of the skills you have learned in TESDA, whether by becoming an employee or an entrepreneur," he stressed.
The 3-year diploma program of TESDA is under the Universal Access to Quality Tertiary Education Act (UAQTEA) or the Republic Act 10931 which was signed by President Rodrigo Duterte in April 2017 which gives Filipinos the opportunity to avail of free tertiary education in both public and private institutions. Training duration for UAQTEA lasts for three years. If completed, a scholar can continue the program into a bachelor's degree.
Aside from being scholars of TESDA, the graduates received Training Support Fund (TSF), PPE and internet allowance, accident insurance, and workshop uniform.
Director Daoaten and Ms. Cadalig joined Ms. Payno in awarding the various awards such as Highest Academic Achiever, which is given to a graduate who obtained the highest scholastic grade among the 2022 graduating class, and proficiency awards, which are given to those who are proficient in certain qualification programs, and special awards, which are given to graduates who have made special contributions in school.
The graduates offered their diplomas to their parents during the tribute to parents before they started their pledge of loyalty to BCSAT. (VWT)
The awardees are as follows:
Highest Academic Achiever – Bernales, Girlie C.
Most Proficient in Barista NC II – Arcadio, Irene Claire W., Atas, Kris Dan P., Fideles, Nikki Anne C., Reyes, Sweeney C.
Most Proficient in Bartending NC II Arcadio, Irene Claire W., Reyes, Sweeney C.
Most Proficient in Bread and Pastry Production NC II – Bernales, Girlie C., Marquez, Ian Ceasar A., Mendez, Mylene A., Rebolledo, Perla V., Supsupin, Jonathan S.
Most Proficient in Cookery NC II – Supsupin, Jonathan S.
Most Proficient in Food and Beverage Services NC II – Atas, Kris Dan P.
Most Proficient in Front Office Services NC II – Alvez, Eryn Kae B.
Most Proficient in Housekeeping NC II – Madrigal, Jayson A.
Leadership Award – Marquez, Ian Ceasar A.
2021 Philippine National Skills Competition   – Supsupin, Jonathan S. (Gold Medalist – Cookery) and Atas, Kris Dan P. (Bronze Medalist – Restaurant Services) ###